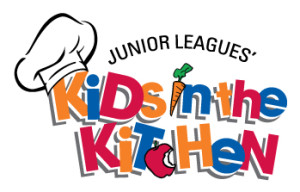 As a parent, aunt, sister or friend, it is important to help your children develop healthy eating habits and to enjoy the importance of cooking. Teaching your kids how to cook healthy is the best gift you can give them. The goal of the Junior Leagues' initiative, which is supported by The Association of Junior Leagues International, Inc. and its member Leagues, is to empower youth to make healthy lifestyle choices and help reverse the growth of childhood obesity and its associated health issues.
Each spring, Junior Leagues in four countries present Kids in the Kitchen to introduce grade school-aged children to the tools for making and enjoying healthy food choices.
The Junior League of the Shoals is once again very excited to participate this year. We will showcase an event to educate children about healthy food choices. Volunteering members will serve their community as they assist in this wonderful event and have fun too!
JLS is committed to improving the lives of families and children in our community. We are thrilled to offer the Kids in the Kitchen initiative as an extension of our dedication to healthy lifestyles. Kids in the Kitchen is an Association-wide initiative of The Association of Junior League International (AJLI) designed to help communities address the urgent issues surrounding childhood obesity and poor nutrition. Launched in 2006 by Junior Leagues in over 225 communities, the program is now in its sixth year. Junior Leagues are committed to improving the health of today's youth by empowering them to make choices that could last a lifetime.