SEPTEMBER GMM
General 
2020-2021 Board and Placements
Pay your dues if you haven't already on the site, or bring them to the GMM, or mail them in. Email Marianne Leigh or Randi Davis
If you need a new nametag email Denise Garcia HERE
• Apple Annie Day- In addition to the traditional posts and business crates, we will also be selling frozen apple pies, caramel apple cake and gourmet apples. (The carnival will be next year due to COVID)
2020 Apple Annie Day Pre-Sale Order Form – Apples
2020 Apple Annie Day Pre-Sale Order Form – Yummies
• JLS Scholarship Update- We are looking to update the criteria for the JLS Scholarship. Please review the two items below and be prepared to vote on this later this month.
JLS Endowed Scholarship Criteria Options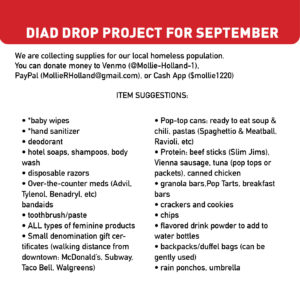 • DIAD Service Project September 19, 1pm, Location TBD
Our Community Project for this year is building and placing Little Libraries around the Shoals, continuing our literacy work in the Shoals
• DIAD Service Drop See list on the right or in Hourglass HERE, email Mollie HERE to drop off items to her later or donate
• Welcome to our Provisional Class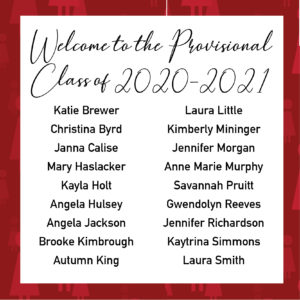 _____________________________________________________
GALAXY OF STARS
We don't just have one shining star, we have an entire galaxy. Let's let them shine!
Elizabeth Gamble, Heather Whaley and the Apple Annie committee they have been meeting for months and having to switch gears due to COVID, but are making an amazing year happen!
Anna Duncan for all of her hard work in recruiting this summer! She has been organizing events both in person and virtual. She is such a positive light, we're lucky to have her.
Sara White for all of her help with decorating and setting up for the Recruiting Event
Haley Peden and Denise Garcia for all of their work for our Provisional Class including the Provisional Parade. They are ready for the year and will be a great team for the Provisionals to be led by.
Jennifer Smith for all of her work on the recruiting event, hosting the Board Retreat and the Provisional Parade!
OUR AMAZING SUSTAINERS these ladies always support us and its an honor to continue their legacy!
Honorable Mention goes to Junior League husbands David Prejeant (Sarah Prejeant's husband) and Tim Butler (Tiff Butler's husband) for always sharing League stuff on social media, to Nathanial White (Sara White's husband) for helping us load out all of the items for the Recruiting Event.
________________________________________
If you have a nominee for the Galaxy of Stars email jls@jltheshoals.org