Apple Annie Day is an annual fundraiser held in November.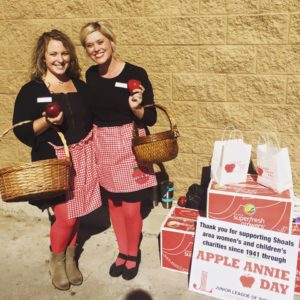 Junior League of the Shoals will host its traditional Apple Annie Day fundraiser on Friday, November 2, 2018, across Colbert and Lauderdale Counties. For more than 75 years the annual charity's red-stocking-clad ladies selling apples to support many local women's and children's nonprofit organizations.
As with all of our events the proceeds will go to women's and children's nonprofits in the Shoals. Look for the ladies in the red tights.
Click here to buy your apples online!